Bio

Ke'on Deshun Johnson (born June 3,1993) is a Hip Hop American songwriter known as Yung K3y born in Atlanta, Georgia at Grady hospital. Keon's early childhood was spent on the east side in Decatur with single mother, Thresinda Fortson. Around the age of 11 Keon found the love for music listening to artist like T.I, Lil Wayne & Drake, he picked up his pin and began writing rhymes. During his Grade school Keon, has won awards for rap contests and performed for numerous yearly fashion shows.
After join local rap groups around the area, performing a local bar & clubs in the metro Atlanta area, post high school. Keon decide to venture off on his own, with smash single SPIN IT roaring through the city, Yung K3y is set to release His Debut Mixtape later this year summer '17.



Powered by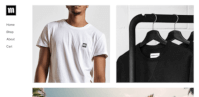 Create your own unique website with customizable templates.